The first steps are complete:  You created a stellar resume, applied for a job, and now have an interview this Friday!  Then… this crisis happens.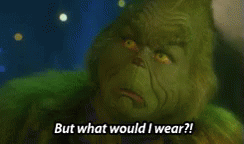 Let's not get too far ahead of ourselves, friends.  The Center for Career Planning is here to help you dress for success!  Here are our tips on wearing professional attire:
Research the company to figure out how they dress on a day-to-day basis.  While wearing a suit is impressive, it's a little too over-the-top for a cashier position interview.  If the company's norm is casual, dress a little more tailored – think back to what you wore for your CNU admissions interview.  If the company norm is dressy, make sure to match that.  What you wear says a lot about you.  If you don't know, it is better to ask your interviewer ahead of time about their 'dress code' than just to guess.
Stick to neutral, dark colors like navy, gray, and black.  While bright colors may be in style, you will stand out to your employer by blending in.  The focus should be on you, not your hot pink blazer.
If something is obviously too large or too small, elect against it.  Similarly, do not wear a skirt that is too short – it should hit just above, at, or right below the knee.  Make sure your clothing items are not wrinkly.  Even the most professional-looking outfit will fail if it doesn't fit correctly or match conservative business norms.  Remember, the goal is to look professional, competent, and capable.
If you love jewelry, pick one simple necklace or bracelet and/or simple earrings.  Again, a job interview is not the time to be flashy.  Your outfit should not be distracting but rather should make you look ready and put-together.
Black, not white, socks.  Don't forget this, gentlemen!
It is important to appear well-groomed.  Although your attire makes a great first impression, that goes out the window if you look messy.  Keep your hair neat and short, makeup to a minimum and neutral, and nails and facial hair trimmed.  Avoid wacky colored hair dye and shower at least the day before.  Don't go crazy with perfume or cologne.  Brush your teeth and remember to put on deodorant!
As always, you are more than welcome to stop by the Center for Career Planning (CNH 305) if you would like our second opinion on your interview outfit.  Good luck, Captains!